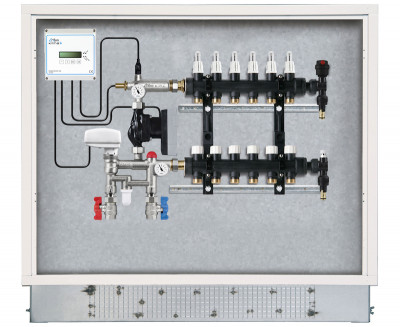 Kilma Basic2
"Kilma Basic2" distribution module in kit
Series 3691.A
"Kilma Basic2" distribution module in kit
Distribution module pre-assembled in wall flush mounted kit suitable for hydronic heating and cooling circuits.
The module is supplied with Kilma EVO2 HC internal regulator.
Insulation casing, of the brass parts, not included.
Centre distance between attachments on the plant side 111 mm.
Centre distance of connections on the diverter line of the low temperature manifold 50 mm, Euroconus G 3/4" threaded connections.
Kilma Basic2
| | | | | | | | | |
| --- | --- | --- | --- | --- | --- | --- | --- | --- |
| Code | Measure | Ways | Width (mm) | Height (mm) | Pack | Outer | Cat. | € |
| 3691.02.60 | 1" | 2+2 | 800 | 700÷820 | 1 | 1 | 30.02 | ||36910260_LastPrice|| |
| 3691.03.60 | 1" | 3+3 | 800 | 700÷820 | 1 | 1 | 30.02 | ||36910360_LastPrice|| |
| 3691.04.60 | 1" | 4+4 | 800 | 700÷820 | 1 | 1 | 30.02 | ||36910460_LastPrice|| |
| 3691.05.60 | 1" | 5+5 | 800 | 700÷820 | 1 | 1 | 30.02 | ||36910560_LastPrice|| |
| 3691.06.60 | 1" | 6+6 | 800 | 700÷820 | 1 | 1 | 30.02 | ||36910660_LastPrice|| |
| 3691.07.60 | 1" | 7+7 | 1000 | 700÷820 | 1 | 1 | 30.02 | ||36910760_LastPrice|| |
| 3691.08.60 | 1" | 8+8 | 1000 | 700÷820 | 1 | 1 | 30.02 | ||36910860_LastPrice|| |
| 3691.09.60 | 1" | 9+9 | 1000 | 700÷820 | 1 | 1 | 30.02 | ||36910960_LastPrice|| |
| 3691.10.60 | 1" | 10+10 | 1200 | 700÷820 | 1 | 1 | 30.02 | ||36911060_LastPrice|| |
| 3691.11.60 | 1" | 11+11 | 1200 | 700÷820 | 1 | 1 | 30.02 | ||36911160_LastPrice|| |
| 3691.12.60 | 1" | 12+12 | 1200 | 700÷820 | 1 | 1 | 30.02 | ||36911260_LastPrice|| |
| 3691.13.60 | 1" | 13+13 | 1200 | 700÷820 | 1 | 1 | 30.02 | ||36911360_LastPrice|| |
| 3691.14.60 | 1" | 14+14 | 1200 | 700÷820 | 1 | 1 | 30.02 | ||36911460_LastPrice|| |
high performance adjustable flow pump EEI<0.23 - ERP 622/2012
Insulation casing
| | | | | | | | | | |
| --- | --- | --- | --- | --- | --- | --- | --- | --- | --- |
| Code | Useful Dim. (mm) | Insul. Th. (mm) | Heat Res. | Pump | Radiant circuit | Pack | Outer | Cat. | € |
* Specific insulation casing for mixing valve, circulator and well