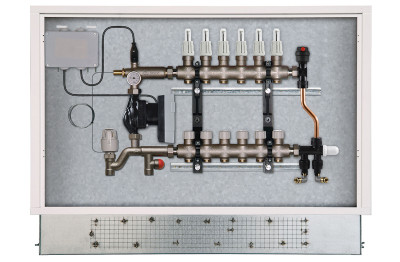 KILMA-ECONBLOCK RF
Fixed Point Control Unit - Kilma-ECONBLOCK RF
Series 701.C
Fixed Point control unit Kilma-ECONBLOCK RF series
Distribution control unit for low temperature circuits consisting of: specific manifolds, circulation pump, mixing manifold, including non-return valve and control return unit; fixed point control through injection valve with thermostatic head internal probe (low temperature flow), immersion safety thermostat, all housed in a built-in metal case with locking hatch. Including: flow control meters, flow thermometer, valves with thermostatic option on return, 1 automatic air vent valve / air separator valve, adjustable by-pass valve equipped with connections for system filling.
Model recommended for use with electrothermic heads.
Centre distance between attachments on the plant side 111 mm.
Centre distance of connections on the diverter line of the low temperature manifold 50 mm, Euroconus G 3/4" threaded connections
Kilma ECONBLOCK RF
| | | | | | | | | |
| --- | --- | --- | --- | --- | --- | --- | --- | --- |
| Code | Measure | Ways | Width#r#(mm) | Height#r#(mm) | Pack | Outer | Cat. | € |
| 701.06.50 | 1" | 3+3 | 800 | 700÷820 | 1 | 1 | 30.02 | ||07010650_LastPrice|| |
| 702.06.50 | 1" | 4+4 | 800 | 700÷820 | 1 | 1 | 30.02 | ||07020650_LastPrice|| |
| 703.06.50 | 1" | 5+5 | 800 | 700÷820 | 1 | 1 | 30.02 | ||07030650_LastPrice|| |
| 704.06.50 | 1" | 6+6 | 800 | 700÷820 | 1 | 1 | 30.02 | ||07040650_LastPrice|| |
| 705.06.50 | 1" | 7+7 | 1000 | 700÷820 | 1 | 1 | 30.02 | ||07050650_LastPrice|| |
| 706.06.50 | 1" | 8+8 | 1000 | 700÷820 | 1 | 1 | 30.02 | ||07060650_LastPrice|| |
| 707.06.50 | 1" | 9+9 | 1000 | 700÷820 | 1 | 1 | 30.02 | ||07070650_LastPrice|| |
| 708.06.50 | 1" | 10+10 | 1200 | 700÷820 | 1 | 1 | 30.02 | ||07080650_LastPrice|| |
| 709.06.50 | 1" | 11+11 | 1200 | 700÷820 | 1 | 1 | 30.02 | ||07090650_LastPrice|| |
| 709.12.50 | 1" | 12+12 | 1200 | 700÷820 | 1 | 1 | 30.02 | ||07091250_LastPrice|| |