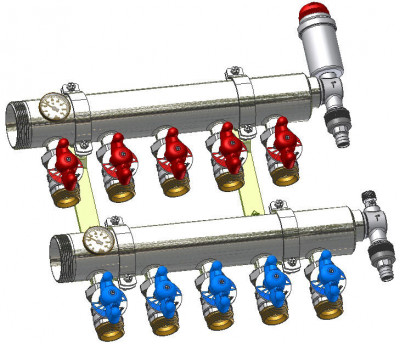 Kilma High Flow
2" manifolds kit
Series 1349
2" manifolds kit.
Each kit consists of: (pre-assembled pieces)
n° 2 Manifolds (composition based on request)
n° 2 metal clamping brackets with relative clamping screws and vibration-damping supports.
Ball shut-off valves for each distribution way.
n° 2 0÷80 °C thermometers for delivery and return temperature control.
n° 1 Air vent valve
n° 1 Manual air discharge, system loading unit.
2" manifolds kit
| | | | | | | |
| --- | --- | --- | --- | --- | --- | --- |
| Code | Measure | Ways | Pack | Outer | Cat. | € |
| 1349.09.00 | 2" | 5+5 | 1 | 1 | 30.01 | ||13490900_LastPrice|| |
| 1350.09.00 | 2" | 6+6 | 1 | 1 | 30.01 | ||13500900_LastPrice|| |
| 1351.09.00 | 2" | 7+7 | 1 | 1 | 30.01 | ||13510900_LastPrice|| |
| 1352.09.00 | 2" | 8+8 | 1 | 1 | 30.01 | ||13520900_LastPrice|| |
| 1353.09.00 | 2" | 9+9 | 1 | 1 | 30.01 | ||13530900_LastPrice|| |
| 1354.09.00 | 2" | 10+10 | 1 | 1 | 30.01 | ||13540900_LastPrice|| |
| 1355.09.00 | 2" | 11+11 | 1 | 1 | 30.01 | ||13550900_LastPrice|| |
| 1356.09.00 | 2" | 12+12 | 1 | 1 | 30.01 | ||13560900_LastPrice|| |
| 1357.09.00 | 2" | 13+13 | 1 | 1 | 30.01 | ||13570900_LastPrice|| |
| 1358.09.00 | 2" | 14+14 | 1 | 1 | 30.01 | ||13580900_LastPrice|| |
| 1359.09.00 | 2" | 15+15 | 1 | 1 | 30.01 | ||13590900_LastPrice|| |
Distribution way connections, centre distance 70 mm - G 1"M thread