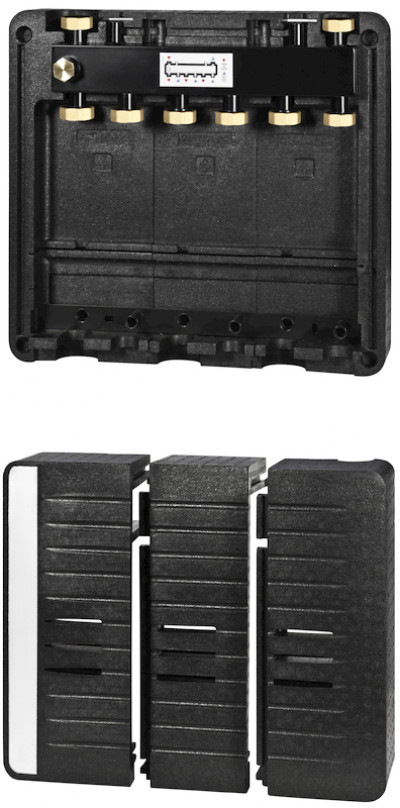 Multimix
Booster unit
Series 3195
Multimix booster unit.
Wall-mounted hydraulic manifold for 2 or 3 zones for heating/cooling systems.
Black water-painted steel body.
Module supplied complete with EPP insulation casing (density 60 g/l) serving as casing and wall support of the whole mixing and booster unit.
Manifold can be transformed, as needed, into manifold/hydraulic separator by the manual opening of a shutter on the manifold (supplied in manifold/separator configuration).
1" M threaded connections from the heat generator. Connections on the user side with 1"1/2 F threaded unions.
Connection set-up for 3/4" F safety unit (delivery) and connection for 3/4" F expansion tank (return). Manifold can be coupled to RD25 - RF MIX25 - RM MIX25 modules.
Maximum operating pressure 6 bar
Maximum operating temperature 110 °C
Minimum cooling temperature 7 °C
Size lxhxp: 402x525x250 mm (2 branches) - 555x525x250 mm (3 branches)
Booster unit
| | | | | | | |
| --- | --- | --- | --- | --- | --- | --- |
| Code | Measure | Ways | Pack | Outer | Cat. | € |
| 3195.06.02 | DN 25 | 2 | 1 | 1 | 01.01 | ||31950602_LastPrice|| |
| 3196.06.02 | DN 25 | 3 | 1 | 1 | 01.01 | ||31960602_LastPrice|| |