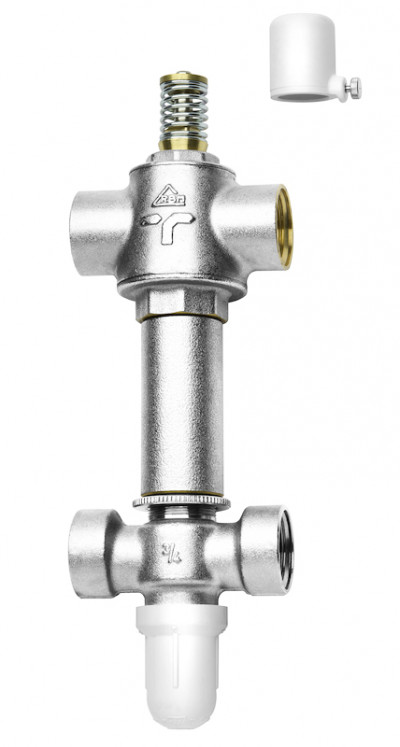 4-way motorizable zone valve
Series 114.B
4-way motorised zone valve. Normally Closed on straight way. Can be coupled to Monoblock coplanar manifolds and complete with adjustable micrometric bypass and extension lead.
Nickel brass body.
Obturator and seal in elastomer.
Elastomer rod seals.
Silicon steel springs.
Anti-water hammer function.
Cap for manual opening in ABS.
Threaded in-line connections FF UNI-EN-ISO 228.
Max operating temperature +95 °C
Max operating pressure 10 Bar
Max differential pressure 1 Bar
4-way motorizable zone valve
| | | | | | | |
| --- | --- | --- | --- | --- | --- | --- |
| Code | Measure | Kv (m³/h) | Pack | Outer | Cat. | € |
| 114.05.20 | G 3/4" | 4,70 | 1 | 6 | 02.01 | ||01140520_LastPrice|| |
| 114.06.20 | G 1" | 6,00 | 1 | 6 | 02.01 | ||01140620_LastPrice|| |