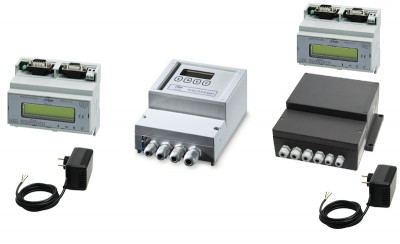 Signal concentrator
Series 1439
Signal concentrator.
It takes the daily readings of a maximum of 20, 60 or 240 thermal energy meters and/or volumetric meters, and stores them in monthly memory logs distinguishing between heating/cooling thermal energy, heating/cooling water volume and domestic water volume.
The signal concentrator is connected to an M-Bus network of thermal energy meters by means of a special bipolar cable (recommended type Jysty 2x0.8 Resistance 75 Ω/km, Capacity 150 nF/km) having a maximum length to be assessed according to the type of network and the number of meters installed within it.
Connection through RS232 serial port
"FSERVICE" software for data transfer to PC in electronic format included in the package
Possible connection via GSM modem with a remote PC for remote reading of the stored data by means of the supplied software.
20-address data logger
| | | | | | |
| --- | --- | --- | --- | --- | --- |
| Code | Meters that can be connected | Pack | Outer | Cat. | € |
| 1439.00.22 | 20 | 1 | 1 | 03.03 | ||14390022_LastPrice|| |
60-address data logger
| | | | | | |
| --- | --- | --- | --- | --- | --- |
| Code | Meters that can be connected | Pack | Outer | Cat. | € |
| 1439.00.12 | 60 | 1 | 1 | 03.03 | ||14390012_LastPrice|| |
240-address data logger
| | | | | | |
| --- | --- | --- | --- | --- | --- |
| Code | Meters that can be connected | Pack | Outer | Cat. | € |
| 1439.00.02 | nr. 240 | 1 | 1 | 03.03 | ||14390002_LastPrice|| |