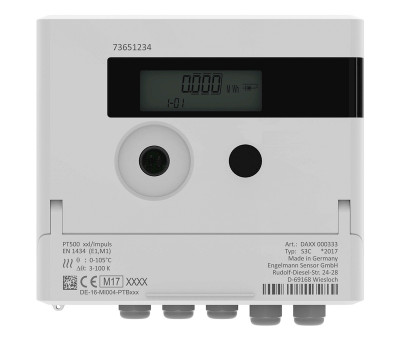 Electronic module HC-S
Series 1566
HC-S electronic module for heating/cooling volumetric meters with impulse-senders.
it is supplied to meter energy consumption and water volumes in heating/cooling systems.
The energy consumption and water volume metering data are stored in memory logs. The electronic module can meter the energy consumption of a single user or of a thermal plant. Two additional meters for sanitary water consumption (fitted with impulse-sender) can also be simultaneously connected to this model.
Wall-mounted.
LCD Display
3V lithium coil duration 10 years
Protection rating IP54
Dim. (lxhxd): 150x130x35
MID approval (hot part)
PTB approval (cold part)
Heating / cooling HC-S electronic module
| | | | | | | |
| --- | --- | --- | --- | --- | --- | --- |
| Code | Model | Impulso/l | Pack | Outer | Cat. | € |
| 1566.00.12 | Electronic module HC-S | 1/10 | 1 | 1 | 03.03 | ||15660012_LastPrice|| |
| 1566.00.22 | Electronic module HC-S | 1/100 | 1 | 1 | 03.03 | ||15660022_LastPrice|| |
| 1566.00.32 | Electronic module HC-S | 1/1000 | 1 | 1 | 03.03 | ||15660032_LastPrice|| |
| 1566.00.52 | HC-S Wi-Fi | 1/10 | 1 | 1 | 03.03 | ||15660052_LastPrice|| |
| 1566.00.62 | HC-S Wi-Fi | 1/100 | 1 | 1 | 03.03 | ||15660062_LastPrice|| |
| 1566.00.72 | HC-S Wi-Fi | 1/1000 | 1 | 1 | 03.03 | ||15660072_LastPrice|| |