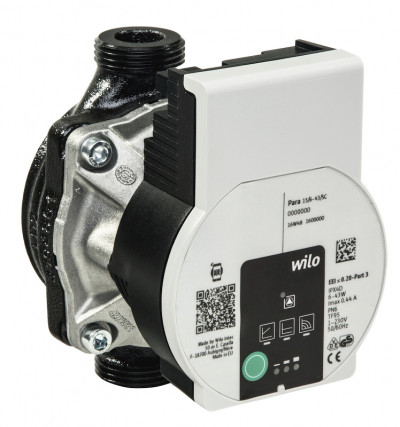 Circulation pump with variable capacity
Series 1614
Variable-flow circulation pump.
Maintenance-free, with threaded connection, ECM technology self-protected synchronous motor.
LED indicator for setting the delivery value and displaying the current consumption in Watts.
Automatic unlocking function.
Function for manual rotor compartment ventilation.
Capacity and pressure adjustment according to the actual system needs.
PARA 15/7 SC 130 (for Kilma Evo/Econblock control units - Kilma Duplex 150 module w/integration).
PARA 25/8 SC 130 (for Kilma Basic - Easy - control unit - Kilma Base 1-2 sub-control unit).
PARA 25/8 SC 180 (for Kilma Mono-Duplex 150 w/mix - Kilma Duplex 250 w/intergration and for Multimix DN25 series boosters).
STRATOS PARA 25/1-8 180 (for Kilma Mono- Duplex 250 modules w/mix).
PARA 30/1-6 SC 180 (for Multimix DN32 series boosters)
Variable-flow circulation pump
| | | | | | |
| --- | --- | --- | --- | --- | --- |
| Code | Model | Pack | Outer | Cat. | € |
| 1614.06.02 | Para 15/7 SC 130 | 1 | 1 | 60.01 | ||16140602_LastPrice|| |
| 1614.06.12 | 25/8) Para 130 | 1 | 1 | 60.01 | ||16140612_LastPrice|| |
| 1614.06.32 | Para 25/8 SC 180 | 1 | 1 | 60.01 | ||16140632_LastPrice|| |
| 2257.08.02 | Stratos Para 25/1-8 180 | 1 | 1 | 60.01 | ||22570802_LastPrice|| |