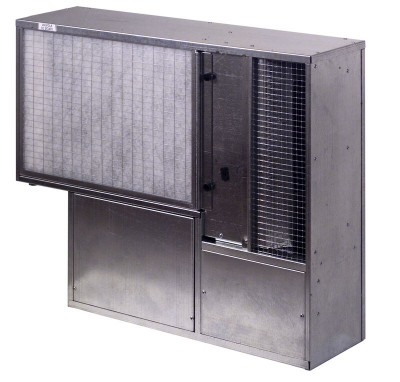 Wall-mounted dehumidifier suitable for insertion in 23 l/24h recessed installation kit
Series 1999.A
Wall-mounted dehumidifier suitable for insertion in 23 l/24h recessed installation kit.
Structure made of galvanised sheet metal panels, lined internally with sound-absorbing mat made of open-cell polyurethane foam, designed for front air suction and input.
Centrifugal fan with forward curved blades, equipped with 3 selectable speeds.
Removable G3 type filter for protection on suction inlet, with metal support structure.
Refrigeration unit with hermetic gas compressor R290 (95g) and additional pre- and post-cooling hydronic coils.
Deuclima is equipped with a motorised 2-way valve and an additional coil for cold supply air integration.
Electrical panel complete with terminal board and diagnostic signalling LED; consent from KILMA EVO 2 HC / KILMA SET regulators with option to remotely connect alarms and LED signalling.
Nominal air flow rate: 200 m³/h (300 m³/h in integration for Deuclima)
Water flow rate: 220 l/h
Power supply: 230V/50Hz
Dimensions (LxHxD): 721x573x201mm
Weight: 31 Kg (34 Kg Deuclima)
Hydronic connections: 2x1/2" F (12kPa)
Condensate drain connection: DN19
Isothermal dehumidifier for wall mounting suitable for insertion in the flush-mount kit
| | | | | | | |
| --- | --- | --- | --- | --- | --- | --- |
| Code | Model | Assembly | Pack | Outer | Cat. | € |
| 1999.24.02 | DEW 24-P | Wall recessed casing | 1 | 1 | 30.09 | ||19992402_LastPrice|| |
Dehumidifier with sensitive heat integration option suitable for recessed kits
| | | | | | | |
| --- | --- | --- | --- | --- | --- | --- |
| Code | Model | Assembly | Pack | Outer | Cat. | € |
| 1999.24.22 | DEU 24-P | Wall recessed casing | 1 | 1 | 30.09 | ||19992422_LastPrice|| |