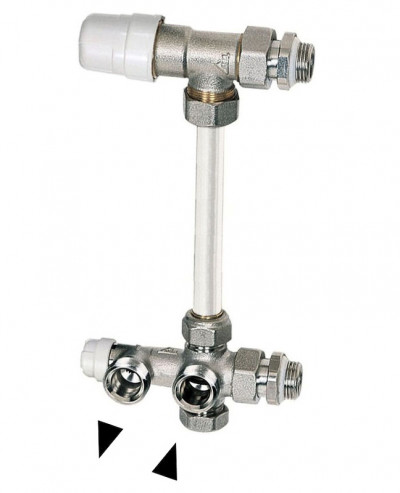 Kits for heating units
Series 213
Kit for heating units fed by single pipe and double pipe circuits.
Nickel brass body.
Elastomer seals.
Shockproof ABS cap and handwheel.
Built-in micrometric lockshield valve.
Internal bypass with 50% bore only for single pipe applications.
Angle connections, centre distance 37 mm M standard RBM thread for copper, polyethylene and multilayer pipe fittings.
Connections for external probe Ø 15 mm.
Threaded connections to terminal M UNI-EN-ISO 228 with pre-gasket ogive in PTFE.
Max operating temperature 110 °C
Max operating pressure 10 Bar
Probe not included.
Kit including angle diverter valve + thermostatically controlled 1/2" reverse valve for single- and double-pipe systems
| | | | | | | |
| --- | --- | --- | --- | --- | --- | --- |
| Code | Measure | Model | Pack | Outer | Cat. | € |
| 213.04.50 | G 1/2" | Kit 50%* | 1 | 10 | 21.01 | ||02130450_LastPrice|| |
| 213.04.00 | G 1/2" | Kit 100%** | 1 | 10 | 21.01 | ||02130400_LastPrice|| |
| 213.04.60 | G 1/2" | Kit 100% | 1 | 25 | 21.01 | ||02130460_LastPrice|| |
* Single pipe circuits