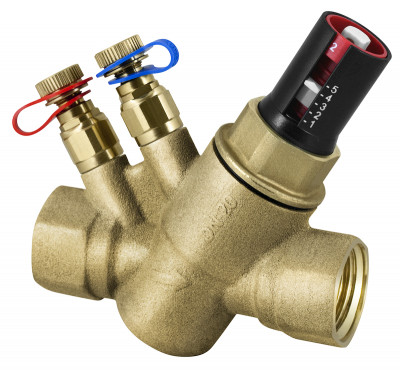 Automatic flow control valve
Series 2874.A
Automatic flow control valve with externally adjustable cartridge, provided with pressure plugs.
It allows to adjust the rate to the desired value, by acting on the cartridge through suitable adjusting device.
Such operation does not involve the valve.
Brass body.
Polymer cartridge with elastomer diaphragm.
Indicator with graduated scale.
Threaded connections FF UNI-EN-ISO 228.
Max operating pressure 16 Bar
Allowed temperatures -20 ÷ +120 °C
Allowed fluid water and water+glycol 50%
Pressure gauge plugs connection G1/8"
Automatic flow control valve provided with pressure taps
| | | | | | | | | |
| --- | --- | --- | --- | --- | --- | --- | --- | --- |
| Code | Measure | DP (kPa) | Flow rate (m³/h) | Cartridge | Pack | Outer | Cat. | € |
| 2874.04.10 | G 1/2" | 17 - 210 | 0,100 - 0,412 | B | 1 | 1 | 22.01 | ||28740410_LastPrice|| |
| 2874.04.20 | G 1/2" | 17 - 210 | 0,157 - 0,609 | G | 1 | 1 | 22.01 | ||28740420_LastPrice|| |
| 2874.04.30 | G 1/2" | 17 - 200 | 0,275 - 0,825 | RW | 1 | 1 | 22.01 | ||28740430_LastPrice|| |
| 2874.04.40 | G 1/2" | 30 - 400 | 0,406 - 1,270 | RG | 1 | 1 | 22.01 | ||28740440_LastPrice|| |
| 2874.05.10 | G 3/4" | 17 - 210 | 0,100 - 0,412 | B | 1 | 1 | 22.01 | ||28740510_LastPrice|| |
| 2874.05.20 | G 3/4" | 17 - 210 | 0,157 - 0,609 | G | 1 | 1 | 22.01 | ||28740520_LastPrice|| |
| 2874.05.30 | G 3/4" | 17 - 200 | 0,275 - 0,825 | RW | 1 | 1 | 22.01 | ||28740530_LastPrice|| |
| 2874.05.40 | G 3/4" | 30 - 400 | 0,406 - 1,270 | RG | 1 | 1 | 22.01 | ||28740540_LastPrice|| |
| 2874.06.10 | G 1" | 17 - 210 | 0,100 - 0,412 | B | 1 | 1 | 22.01 | ||28740610_LastPrice|| |
| 2874.06.20 | G 1" | 17 - 210 | 0,157 - 0,609 | G | 1 | 1 | 22.01 | ||28740620_LastPrice|| |
| 2874.06.30 | G 1" | 17 - 200 | 0,275 - 0,825 | RW | 1 | 1 | 22.01 | ||28740630_LastPrice|| |
| 2874.06.40 | G 1" | 30 - 400 | 0,406 - 1,270 | RG | 1 | 1 | 22.01 | ||28740640_LastPrice|| |
B = Black