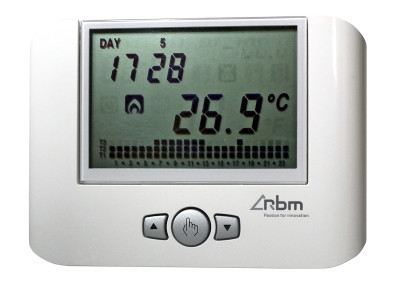 Wireless digital weekly programmable thermostat
Series 3405
Wireless digital weekly chronothermostat with built-in GSM module.
Combined with RBM remote actuators, it controls the ambient temperature. The wireless module is used to control, regardless of the temperature reading, up to 7 other remote actuators connected to the same number of electrical loads. With the built-in GSM module, the central heating timer can be remotely controlled by sending an SMS from your smartphone or using a specifically developed APP.
3 operating modes: automatic (on 3 temperature values), manual (with manual temperature), off (with anti-freeze temperature). Programming: 7 programs for winter operation (editable) and 7 programs for summer operation (editable).
Power supply: 230V ac - 50/60 Hz
1 1.5V AA backup battery (included)
Display: LCD without backlighting
Programming: weekly
Programming resolution: 1 hour
Measurement resolution: 0.1 °C
Temperature adjustment range: +2°C ÷ +50°
Colour: White
Size (lxhxd): 132x95x36 mm
Digital weekly programmable thermostat Wireless GSM
| | | | | | |
| --- | --- | --- | --- | --- | --- |
| Code | Model | Pack | Outer | Cat. | € |
| 3405.00.00 | wireless GSM | 1 | 1 | 21.01 | ||34050000_LastPrice|| |