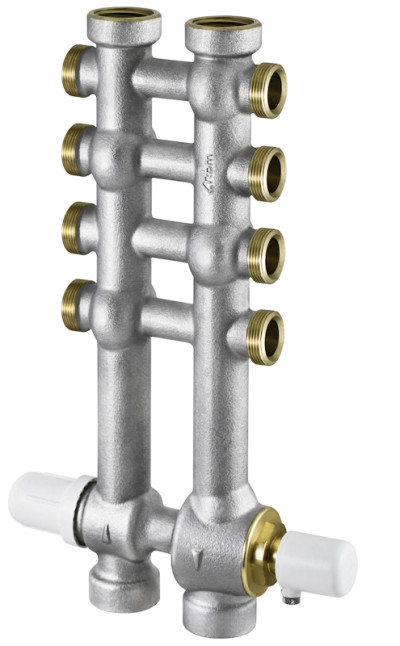 Mono-Zona®
coplanar manifold
Series 433
Coplanar manifold, composed of a manifold with in-line connections and double-sided junctions with integrated 4-way motorized zone valve NC with adjustable bypass.
Nickel brass body.
Elastomer rod seals.
Obturator and seal in elastomer.
Silicon steel springs.
Cap for manual opening in ABS.
Junction connections, centre distance 37 mm threaded M standard RBM for copper, polyethylene and multilayer pipe fittings.
Threaded in-line connections FF UNI-EN-ISO 228.
Connections centre distance 50mm (manifold 3/4").
Connection centre distance 55mm (1" manifold).
Max operating temperature 95 °C
Max operating pressure 10 Bar
Max differential pressure 1 Bar
Double-sided coplanar manifold with built-in 4-way zone valve
| | | | | | | |
| --- | --- | --- | --- | --- | --- | --- |
| Code | Measure | Ways | Pack | Outer | Cat. | € |
| 433.05.00 | G 3/4" | 4+4 | 1 | 6 | 04.01 | ||04330500_LastPrice|| |
| 434.05.00 | G 3/4" | 6+6 | 1 | 6 | 04.01 | ||04340500_LastPrice|| |
| 435.05.00 | G 3/4" | 8+8 | 1 | 6 | 04.01 | ||04350500_LastPrice|| |
| 433.06.00 | G 1" | 4+4 | 1 | 6 | 04.01 | ||04330600_LastPrice|| |
| 434.06.00 | G 1" | 6+6 | 1 | 6 | 04.01 | ||04340600_LastPrice|| |
| 435.06.00 | G 1" | 8+8 | 1 | 6 | 04.01 | ||04350600_LastPrice|| |
Standard RBM thread W24.5x19F junction side