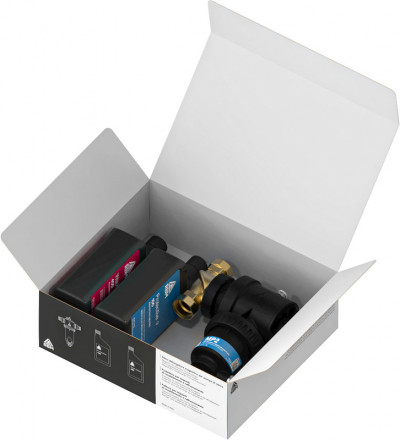 Chemical water treatment kit with filter for super-compact heat pump MP2
4032.B
Chemical water treatment kit with filter for super-compact heat pump MP2
MP2, with its effective and constant action, collects all impurities in the system, preventing them from circulating within it. This prevents wear and damage to the rest of the system components, in particular circulators and heat exchangers. The impurities stopped by the filter are accumulated on its bottom as long as the opening of the specific discharge cock allows the expulsion thereof.
Protective 100 is a professional multifunctional neutral product for inhibiting corrosion, lime deposits, noise in heating systems as well as boilers, hydrogen formation inside radiators, microbial and algal growth in heating and cooling systems.
Wash Clean 400 is a neutral product for cleaning new and old systems from limestone and iron deposits, sludge, oily substances, grease, iron deposits, microbial and algal growth.
The kit consists of:
MP2, super-compact magnetic sludge remover filter
Protective 100, protective agent for cooling and heating systems in 1 kg can
Wash Clean 400, cleaner for heating and cooling systems in 1 kg can
| | | | | |
| --- | --- | --- | --- | --- |
| Code | Pack | Outer | Cat. | € |
| 4032.06.00 | 1 | 6 | 20.03 | ||40320600_LastPrice|| |